Registered Address:
Y24097801: 6160 Warren Parkway, STE 100, Frisco, TX 75034; student records stored electronically
F09380201: 126 W. College Street, Lewisville, TX 75057; student records stored electronically
Y24097801 & F09380201: backup paper copies of student records maintained by School Director.
Meet your instructors
Fred Harkins is our Master instructor and founding instructor with the original vision for Harkins Security & Firearms Training. After more than a decade training private security professional and other private citizens in the use of firearms including the laws and regulations related to private security, personal protections, intermediate weapons and license to carry, 1000's of students continue to return to Fred classroom for training necessary for growth in their professional career and personal use of firearms.
Henry Thomas is our Master Instructor for LicenseToCarry.com and assists Fred in developing and teaching the private security courses offered by Harkins Security and Firearms Training. Henry is an NRA certified instructor in the subjects of Pistol, Shotgun & Rifle; Personal Protection inside and outside the home; and, is qualified as a Chief Range Safety Officer. He is qualified as a Texas Private Security Level III Combined Firearms Instructor. Henry is also licensed and qualified as a Texas License to Carry Handgun instructor and was one of the first instructors qualified to offer the Texas LTC classroom and written exam as an online course provider. He is also a qualified as a School Safety Instructor in Texas.
Harkins Security & Firearms Training
Fred Harkins is the Qualified School Director and Master Instructor supervising all content and issuance of certificates in conjunction with this online school. Henry Thomas, managing member of Advisory Engineering & Analytics, LLC., is responsible for administration of the web site, electronic payment facilitation and technological aspects of the site. Fred and Henry are the contributing authors of the materials and content presented herein above the material and content provided and required for inclusion in the courses by the State of Texas.
NOTICE: This School is licensed and regulated by the Texas Department of Public Safety Regulatory Services Division; while we strive to resolve any issue or concerns that are brought to our attention, including our offer of 100% Satisfaction Guarantee, if you need to file a complaint, please contact DPS via website, mail or phone:
https://www.dps.texas.gov/rsd/contact/psb.aspx
P.O. Box 4087, Austin, TX 78773-001
(512) 424-7293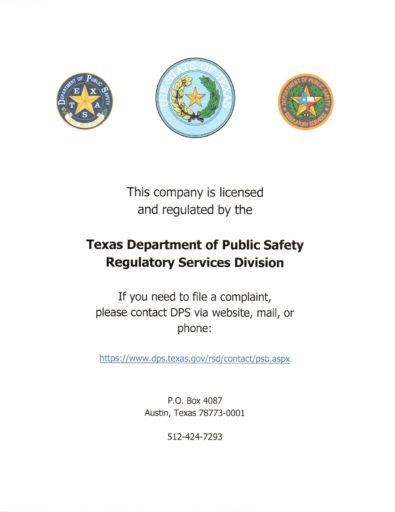 Verify course completion certificates here:
Unique Certificate Code - Search
---
Search by User ID, Certificate ID or Email: *